***CONTACT US WITH MEASUREMENTS FOR OUR LATEST INVENTORY!   WE ALWAYS HAVE MORE THAN IS SHOWN HERE!
WEBSITE IS NOT ALWAYS UP TO DATE.***
859 552 5983/hmarchia@aol.com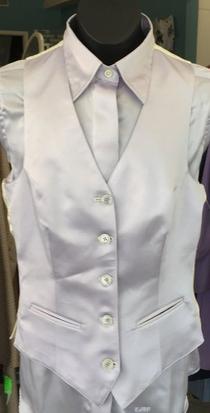 DeRegnaucourt Lavender Satin Shirt & Vest Set

$810

Item #33575
Set is a pale lavender with grey tone, is very lightly used and part of the DeRegnaucourt apparel upgrade program.   Has monogram "EJRF" on bottom of shirt.
Vest:
Chest: 31"
Waist: 26"
Front: 21"
Back: 18 1/4"
Shirt:
Chest: 34"
Waist: 30"
Sleeve: 25"
Neck: 12 7/8"